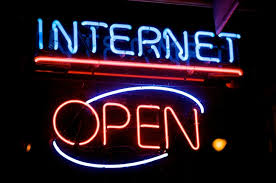 February 26, 2015: It's official! The Internet will now be regulated as a public utility.
In a 3-2 party line vote today, the Federal Communications Commission (FCC) passed strong new regulation to ensure net neutrality protections are firmly in place and the Internet "won't be sold to the highest bidder."
In what many consider to be a milestone moment, the FCC decided to apply the same rules to broadband service that have been governing the telephone industry for decades.  Broadband will now be considered a Title II telecommunications service under the 1934 Communications Act.  The new rules replace regulations thrown out by a federal court last year.
For a full explanation of what Net Neutrality is and what these new rules will and won't do, see the February 14 article NET NEUTRALITY MILESTONE on our Facebook page.
Proponents of these changes hope it will ensure fair and equal treatment for all traffic on the Internet.
Opponents such as cable operators, wireless providers and phone companies consider the move a "nuclear option," with potentially devastating fallout from unintended consequences.  FCC Chairman Tom Wheeler said these fears are overblown.
AT&T has already hinted that they will sue.  The company's top legislative executive, Jim Cicconi, said, "What doesn't make sense, and has never made sense, is to take a regulatory framework developed for Ma Bell in the 1930s and make her great grandchildren, with technologies and options undreamed of 80 years ago, live under it."
Verizon, not particularly known for having a sense of humor, issued their press release today mocking the FCC's decision as archaic by using Morse code to underscore the point that Title II was first written in 1934.  Not bad.
The political lines have been drawn.  Congressional Republicans and their corporate puppet-masters are already lined up to strip the FCC's ability to enforce the regulations.  Although Republicans control both the House and the Senate, they concede they don't have the votes to override an executive veto from President Obama. As we all have seen, that likely won't stop them from going through the motions anyway.