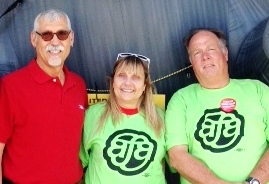 At the September Membership meeting, President T Santora announced that he was stepping down after achieving 40 years of membership. His resignation was effective on October 1.
Executive Vice President Marisa Remski assumed the role of President in accordance with the CWA Constitution and CWA 9003 Bylaws. Her nominee to take her place as EVP is Mike Frost, long time Vice President. Taking Mike's spot as VP is Kate Harden, senior Verizon… Executive Board Member. Both nominations were approved by the Executive Board and those present at the September membership meeting.
Santora leaves a legacy of more than 30 years continuous service to CWA as a Local Officer and CWA Staff Representative. He began his career in 1975 when he was hired by GTE in Santa Monica. In addition to serving as Local President for Locals 9574, 9000 and 9003, T worked for the National union for 12 years in San Francisco, Chicago and Washington, DC. He will continue his role as Political Director of the CWA Southern California Council.
Marisa has years of experience in a variety of roles in the union. She was recently elected to her second term as a member of the AT&T West bargaining commitee by her peers across the District.
A Retirement Celebration for T will be held on November 7. For more information about the event, please contact the Local office at 818-845-9003.