OFFICIAL NOTICE OF NOMINATIONS
For CWA 9003 Bargaining Committee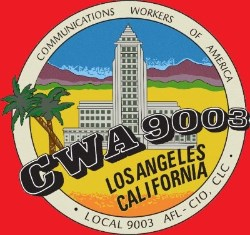 With the CWA 9003/SEIU 2015 Contract expiration in October of 2016, this notice is hereby given announcing nominations for the CWA 9003/SEIU 2015 Bargaining Committee.
The CWA 9003 Bargaining Committee will consist of 5 bargaining members: Janine Munson – CWA District 9 Staff Representative, Mike Frost – CWA 9003 Executive Vice President, Dekoler Allison – CWA 9003 Area Steward, the 2 remaining positions and 2 alternates will be determined by election.
If you wish to nominate someone, or self-nominate, please submit a letter to Local 9003 NO LATER THAN May 25, 2016. The letter should contain the name, address, personal contact information, along with personal e-mail address and cell phone number. Be sure to include the mailing address of the nominee. Letters may be mailed to:
CWA/SEIU Bargaining Committee Election
825 So. Victory Blvd.
Burbank, CA 91502
Election of Bargaining Committee Members shall be by secret ballot cast during the month of June, 2016. Ballots shall be mailed to each member's last known home address.